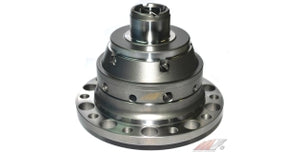 Gain a prominent advantage over the competition with the MFactory Helical Limited Slip Differential. Through the smooth and constant distribution of power to the wheels, the MFactory Helical LSD puts the power-to-the-ground and maximizes your vehicle's traction. A must for any race car, be it Street, Strip or Track!
2nd Generation Design
The MFactory v2 Helical LSD is lighter, stronger and more efficient.
 * Designed to withstand the extreme shock loads of Competitive-Level Drag Racing

 * Can me Modified by The Few H22 Crew For H22 AWD Application
 * Can be Modified by Drive Shaft Shop For 28 Spline PRO LEVEL AXEL's